With Beth's help, it took about 15 minutes to put my new lower together. Thanks to Brownells for the instructional videos (and a pile of inexpensive magazines), commenter ZerCool for the tip on where to get a lower parts kit, and M&A Parts for getting me a reasonably priced LPK quickly (while everyone else just said, "yeah right!" when I asked for one.)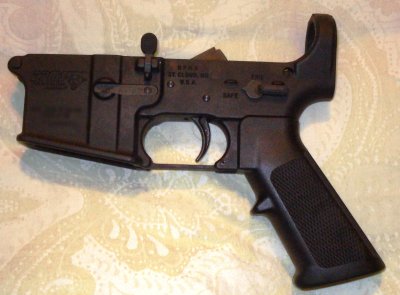 Next up, the buttstock and related bits. I'm probably gonna get a cheap collapsible stock, and just upgrade later. Since I can really only afford to buy this rifle bit by bit, the upper may be a month or two away.

Oh, and to the guy I bought the lower receiver from who assumed I was too much of an idiot to assemble an AR lower: it was easy-peasy. I've had lego sets that were harder. I could have done that drunk and blindfolded. I didn't lose a single spring or detent, and I only launched the disconnecter across the garage once.